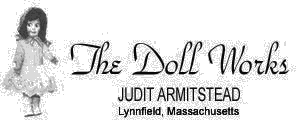 Specializing in Antique Dolls, Doll House Miniatures,
Teddy Bears & Bisque Novelties
---
The Doll Works was established over 30 years ago. We have participated in major doll and antique shows throughout the country during our many years in business. Our merchandise includes a large variety of antique and collectible dolls, teddy bears, doll houses and furnishings, and bisque novelties including half dolls, bathing beauties, snow babies and many other items. Kestner, Heubach, K*R, Lenci, Bru, Jumeau, Schafer & Vater, Hertwig, Steiff, Schuco, Tynietoy, Schoenhut, Bliss, and Gottschalk (doll houses and dollhouse furniture) are just a few of the many reknown early manufacturers' products we have sold.
Our enthusiasm for our merchandise and collections has only increased with time. Over the years some of our diversified collections and merchandise have been included in several popular books and publications of antiques and collectibles including The History and Art of Googlies, 2002, by Anita Ladensack, Collectors Guide to Ideal Dolls 1st Edition, 1994, and 3rd Edition, 2005, by Judith Izen, Collectors Encyclopedia of Vogue Dolls, 1998, by Judith Izen and Carol Stover, Enchanting Friends, 1995, by Dee Hockenberry, Antique & Collectible Dollhouses and Their Furnishings, 1998, and Toy Buildings 1880 - 1980, 2000, by Dian Zillner and Patty Cooper, and Doll Values 12th Edition by Linda Edward and numerous others.
Please enjoy visiting The Doll Works web site. We will be pleased to answer any questions you may have about our merchandise for sale. We offer a generous layaway policy for the convenience of our customers.
Member of United Federation of Doll Clubs (UFDC) and several miniature societies. The Doll Works web site is continually updated and revised, so please check with us often.
| | | |
| --- | --- | --- |
| Two white Steiff teddies c.1915 | | Chloe Preston Googlie c.1920 |
---